JVC's Diamond Series DM65USR TV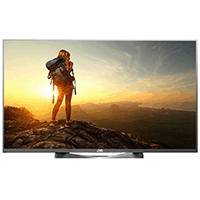 Ultra HD TV's are starting to become popular in the electronics world, with new UHD products entering the market regularly.  JVC entered the market with a bang when they introduced the Diamond Series DM65USR.  This 65-inch UHD model has a number of great features, including CrystalMotion Pro 240 technology to decrease motion blur and a full-array LED backlight that includes local dimming.  Built-in WiFi is included, along with a Roku Stick to use  for a variety of streaming services.
While many TVs are traditionally black, the DM65USR is a sleek brushed silver color that will look nice in any home theater or living room.  This  65-inch TV sits on a triangular, non-swiveling stand that has the same silver coloring.
The DM65USR comes with a dual-sided remote.  The front has the regular TV button design, while the back has a touch pad control and a regular QWERTY keyboard.  The controls on the back panel are activated when the remote is flipped from the front to the back side.  Once the remote is synced up with the TV, several commands like home and menu will work without line of sight to the TV.
This TV's connection panel includes five HDMI inputs; four of the inputs will support HDMI 2.0, along with the HDCP copy protection for compatibility with the future high resolution Ultra HD Blu-ray format.  The remaining HDMI input allows users to connect and power up the Roku Stick that is included.  The connection panel also includes several other necessary inputs and outputs, as well as two USB ports and a LAN port.
The DM65USR includes six different pictures modes: standard, movie, sports, game, vivid and custom.  To further adjust your picture setting, there are several more advanced adjustments available, including an ambient light sensor to adjust the brightness based on the room environment, a multi-step adjustable backlight and white balance controls to adjust the color temperature, if necessary.  Other advanced adjustments are included, such as noise reduction and a color management system.  The CrystalMotion Pro 240, which reduces blur, has several different options to use, depending on your preferences.
From an audio perspective, DM65USR's speakers are dynamic and produce a full rich sound that is better than most flat-panel sound systems.  Set-up is fairly easy with controls for treble, bass and balance, along with EQadjustment and lip sync controls. XinemaSound 3D gives the ability to use specialized sound modes and the XinemaSound Leveler allows users to reduce annoying volume inconsistencies between sources.
This JVC TV has smart TV functionality with the Roku Stick and a Roku account.  By plugging the Roku Stick into the HDMI/MHL port, you can access all the Roku services that are currently available. The Roku stick is an excellent smart TV solution with an easy-to-use interface and a great collection of apps to use.
If you are looking for a TV with great picture quality, you will certainly like this Diamond Series DM65USR.  Using the full-LED backlight dimming feature, you will enjoy a fine dark-room performance.  For sports or daytime viewing, you will find that the DM65USR offers great light output as well.  You and your family will appreciate this TV and all that it has to offer!