Home Theater
Media Room and Home Theater Houston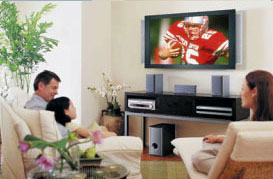 Looking for the right home theater? We've got it! We work with any size budget to create amazing Home Theaters for our customers!
All Star Audio-Video provides you with the best planning, solutions and custom installations to enhance your lifestyle. We specialize in custom design and solutions for you, so whether you are looking for a great space for relaxing, entertaining, or bringing the whole family together. All Star Audio-Video will work with you every step of the way to make sure your dream becomes a reality.
Do I want a Media Room or Home Theater?
The first step in planning your space is deciding whether you want a dedicated home theater or a media room system. A dedicated home theater is designed specifically for entertainment: enjoying movies, sports, TV, and video gaming. Many customers will turn attics, bonus rooms, or spare rooms into a dedicated home theater space. A media room, on the other hand, serves for more than just entertaining. Usually it's a family room or bonus room that will double as a media room. Either choice can be realized with custom solutions from All Star Audio-Video.
Screen Size and Viewing Distance
The next steps are deciding both the location and size for your video display. Both the Society of Motion Picture and Television Engineers (SMPTE) and THX Ltd. (a developer of quality standards founded by Lucasfilm) have standards and our planning and design specialists will work to ensure you have the best viewing and listening experience possible. This step is very important to get right, and is probably the most difficult one to fix if you get it wrong.
Choosing the Right Equipment
This is the fun part for most of our customers. Amazing improvements in video technology over the last 10 years have made having a great, dynamic picture on any budget a reality. This allows more room in your budget for great sound. Recent improvements in home theater speakers will make your surround sound experience even more engaging. Bringing it all together is what the trained team at All Star will do into a home theater solution that is right for you.
Home Theater Magic
In many cases, spending a few extra dollars on a great remote control, lighting control, or a window shade automation can add wow to your Home Theater entertainment. We've got lots of suggestions and advice about how to create your own personal magic.
Our trained design and installation technicians will also make sure all audio and video is calibrated for the best viewing experience possible. We will also advice on any electrical and power needs; ventilation and HVAC planning; and integrating video gaming.
When your installation is complete, we will walk you thru the best ways to get the most fun from your new Home Theater System. You can also be confident that if you have a system emergency we offer on-call technicians and an in-house service department.
All Star Audio-Video is the right choice for all your home theatre or media room solutions!
Call Today and Speak with an All Star Professional (713) 464-8203
Visit our Showroom
All Star Audio Video
7300 Southwest Freeway
Houston, TX 77074
Click Here For Directions