The World of 4K Video Has a Bright Future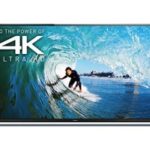 4K Ultra HD (UHD) TV has been around for several years now.  It was first introduced in the market with somewhat mixed reviews.  Everyone raved that the extra image resolution was incredible.  While it was to be expected, there were, however, a number of caveats made when it was initially introduced.  Most people were concerned because there was very little content available, not to mention the small amount of devices actually produced to playback the limited content.  Concerns were also raised regarding the pricing of 4K UHD TV; it was too expensive for most people to even consider.  In those early days, not all details and specifications regarding 4K UHD were even agreed upon.  Today, however, thanks to new innovations and introductions, 2016 looks to be a knockout year for the 4K UHD TV.
4K UHD technology, which is also called 2160p UHD TV, is known for its outstanding resolution.  There are twice the number of pixels, both horizontal and vertical, as that of the 1080p HDTV.  The benefits of ultra-high definition technology can be seen on the larger screen sizes of 4K UHD TVs.  Additional improvements in picture quality have come from the new HDR technology (high dynamic range) that is now being added to many 4K UHD TVs and other related components.  When HDR is incorporated into 4K UHD TVs, the picture quality is stunning and viewers realize quickly that this new technology reproduces an amazingly wide range of colors with subtle shading details that cannot be seen on a TV that does not include high dynamic range technology.  In order for the HDR technology to perform as it should, the original source material must use HDR technology as well.  During 2016, consumers will find that the majority of 4K UHD Blu-Ray players and discs will incorporate the new HDR technology.  In addition, Netflix and Amazon have plans in the works to provide an assortment of HDR titles this year.
Of course, it will be a while before the amount of 4K UHD content that is available to stream, buy or rent reaches the amount of 1080p HD video that is currently available in the market.  The good news is that this is a situation that is changing rapidly and dramatically.  Besides Netflix and Amazon increasing their available selection of 4K UHD content, other sources such as Kaleidoscope, UltraFlix, YouTube and Vimeo are continuing to boost their 4k UHD content as well.
While many people were concerned about limited content when 4K Ultra HD hit the market, 4K UHD Blu-ray discs became available early this year.  Warner Brothers, Sony Pictures Home Entertainment and 20th Century Fox now offer movies on 4K UHD Blu-Ray discs.  Not only do these new discs offer enhanced image resolution, they are also able to take advantage of the latest HDR technology.
If you have been contemplating equipment and content upgrades in your home theater, now is the time to check out the latest 4K video technology.  Do your research now, not only checking out 4K UHD TV models, but also related Blu-Ray players, projectors and various service providers.  In many cases, the pricing has become much more reasonable, thus it looks like this could be your year to make the switch to 4K UHD technology!