Control4 Home Automation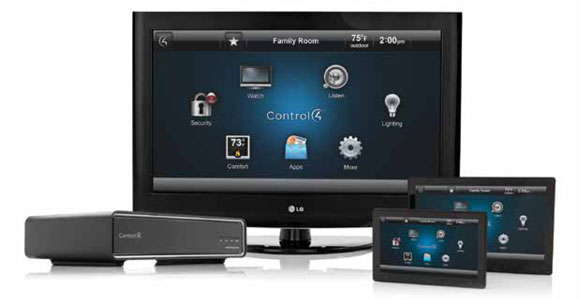 Making your home work for you.
Automatically.
Imagine a house that remembers to lock itself at 10 pm. Shades that close as the sun hits. A home theater setup that takes care of lights, sound, and picture with one touch. With Control4, everything works together the way you want it to. Life is just better with a little more control.
Start with just one room
Reduce coffee table clutter with one remote that can do it all—and more. With one touch, you can turn on your TV, draw the shades, dim the lights, and commence the movie…
Control the whole house
If you love the way control can transform a room, wait until you see what it can do for your whole house!
What do you want to control?
With Control4, you decide what to control, and when.
It's in the palm
of your hand…
Enjoy control from your favorite smart phone, tablet, or laptop. We've got an app for Apple® and Android™ fans.
The possibilities
are endless…
Your ideas of control can be as unique as you are. Dream big, start small. Share your ideas with All Star Audio Video and see where it takes you.