Theater Furniture
Theater Seating & Furniture from All Star's Collection of Top Designers
High Performance Theater Furniture by BDI
The home theater has become an important part of everyday life. It's where many hours are spent as family and friends come together for entertainment and relaxation. BDI home theater cabinets and TV stands merge innovative engineering and original design to seamlessly integrate today's technology, making the home theater feel more like home. From the family room to the living room to the bedroom, there's a BDI solution for any setting.
Today's electronics don't have to overpower the living space. BDI furniture merges innovative engineering and original design to seamlessly integrate technology into the home. You can be sure that we have thought through every detail to keep things protected, organized, and presented in style for years to come.
JSP Industries…the art of function and design!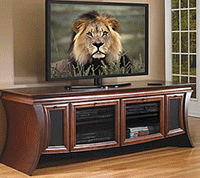 High-end home theatre solutions from JSP Industries blend eye-catching design with exceptional functionality. Whether your style is traditional, contemporary or transitional, you will appreciate JSP's extensive selection of wood furniture, perfectly suited to your audio/video requirements and décor.
JSP is committed to manufacturing quality furniture that is practical, built to last and beautiful. With a solid reputation and more than 40 years of experience, JSP is the leader in high-end home theater products. What's more, its furniture is 100% made in North America and quick to ship!
At JSP, choose from a wide range of models to create a home theater setting that reflects your lifestyle. Made of solid birchand two-face birch veneer panels, all collections are offered in 11 luxurious finishes that highlight the natural grain and richness of wood.
Whether you choose the Allegro, Alto, Bolero, Concerto, Jazzy,Modena, Mozart, Serenade, Soprano or Tangocollections, you are assured of exceptional furniture with an outstanding price-quality ratio.
All JSP furniture is designed to accommodate your high-definition, flat-panel plasma or LCD TV and home theater components with unmatched style and elegance.
With its proven expertise in home theater solutions, JSP offers credenzas, corner units, consoles, cabinets and wall panels – everything you need to provide a stunning setting for your home theater experience.
Call Today and Speak with an All Star Professional (713) 464-8203