Integra's DTR-40.7 Receiver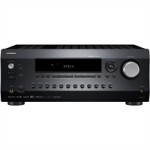 Integra has recently released several new 7.2 channel network receivers, including the DTR-40.7 7.2 model.  This particular 7.2 channel receiver is DTS:X compatible, allowing owners to enable the latest in exceptional audio experiences.  One could say that the DTS:X brings audio to a new level of sound interaction and immersion.
With a DTS:X receiver, sound is located where listeners naturally expect it to be, producing an incredibly realistic and multi-dimensional sound experience.  Since there are no channel restrictions, sound can be moved to the exact place you would hear it in the real world, making for much more engaging and personalized home entertainment.
Unlike many receivers, DS:X does not call for a specific speaker arrangement.  Speakers can be incorporated into any home theater system design.  For the best immersive sound experience, Integra does recommend that height is incorporated into any personalized speaker layout.  Because the DTS-X technology allows for customization that enhances the entire audio experience, home theater owners will find that action movies are more intense and horror movies are even scarier with the Integra DTR-40.7 receiver.
This new Integra 7.2 channel network receiver also features Dolby Atmos decoding that will fill your home theater with rich sounds.  It will turn ordinary audio experiences into amazing sounds that bring whatever you are watching to life.  Movies, music and video games will come alive with sound details that make listeners believe they are right there in the actual scene or at a concert.
The new DTR-40.7 receiver is THX Select2 Plus certified and it includes the technology that permits the broadcasting of HDMI audio/video signals over greater distances with an easy to install cable. No HDMI connection is necessary.  This receiver is designed for sound distribution throughout the home; with just one CAT5e/6 cable, the DTR-40.7 can be connected to any compatible electronic device available.  Custom integration specialists love this receiver because it can cross greater distances with uncompressed 3D and 4K Ultra HD multimedia.
For Ultra HD entertainment, this particular model contains 4K/60 Hz-capable HDMI terminals.  There are 8 inputs (1 in the front / 7 in the back) and 2 outputs (4 K Ultra HD / HDCP 2.2).  The receiver also features 175 watts/channel at 6 Ohms and 110 watts/channel at 8 Ohms, along with a first-rate 384 kHz / 32-bit hi-grade AKM 4458 DAC that opens up the full capabilities of the many audio features.
The DTR-40.7 also includes Zone 2 capabilities and the quality of the digital-to-analog conversion is great. Not only are internal digital sources available, including Spotify, Pandora, and Sirius/XM, when connected using Coax and Toslink (2-ch PCM only), external sources are accessible in Zone 2 as well.  Sharing favorite family tunes throughout the house couldn't be easier.  With the included Integra Remote, family members can fully control the Zone 2 functions from anywhere in the house.
If you prefer a customized home theater system and want the highest quality audio, Integra's DTR-40.7 7.2 channel network receiver could be a perfect addition for extraordinary home entertainment.  If you enjoy a great symphony or want your favorite movie to feel like a real-life experience, this is a receiver that you and your family will enjoy!